We just returned home from our trip to Spain on Thursday evening! What a blessed time we had! I can't wait to tell you about it, but first we have some cooking to do!
One blessing of going away is eating new foods, and this trip afforded several opportunities to do just that! While we were in Spain we enjoyed meals cooked by a sweet and gifted Mexican cook. One cold night she made Tortilla Soup. It was perfect for the chilly temps, and with my love for Mexican foods, it hit the spot! I asked her how she made it and she sweetly shared the idea of the recipe. I've found a recipe on Allrecipes.com that sounds very similar to what she made. I've put it on my menu for this week, and I thought you might like to try it too! So, here we go...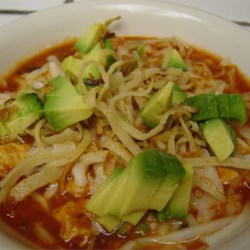 Picture, is from Allrecipes.com
Tortilla Soup
1 onion, chopped
3 cloves garlic, minced
1 tablespoon olive oil
2 teaspoons chili powder
1 teaspoon dried oregano
1 (28 ounce) can crushed tomatoes
1 (10.5 ounce) can condensed chicken broth
1 1/4 cups water
1 cup whole corn kernels, cooked
1 (4 ounce) can chopped green chili peppers
1 (15 ounce) can black beans, rinsed and drained
1/4 cup chopped fresh cilantro
2 boneless chicken breast halves, cooked and cut into bite-sized pieces -
You could leave this out, if desired.
crushed tortilla chips
sliced avocado
shredded Monterey Jack cheese
chopped green onions
Directions
In a medium stock pot, heat oil over medium heat. Saute onion and garlic in oil until soft. Stir in chili powder, oregano, tomatoes, broth, and water. Bring to a boil, and simmer for 5 to 10 minutes.
Stir in corn, , chilies, beans, cilantro, and chicken. Simmer for 10 minutes.
Ladle soup into individual serving bowls, and top with crushed tortilla chips, avocado slices, cheese, and chopped green onion.
How easy does that sound? It's basically dumping in the ingredients into a pot! The tortilla chips in the bowl makes it thicker, and of course, makes it so yummy!
I hope you'll try this! I have high hopes! Now, I'm off to take a little siesta...jet lag is still hovering!
Has anyone brought home a recipe from a trip?
With love from my country kitchen,