This is my first day to use my new title on Monday's post! Pictures will soon follow!
With all the busyness of moving, I've had to use my time carefully to make sure we had nutritious food for energy and stamina! I found
this recipe
on Mom on a Mission and we loved it! It's oven baked, but is crispy and juicy!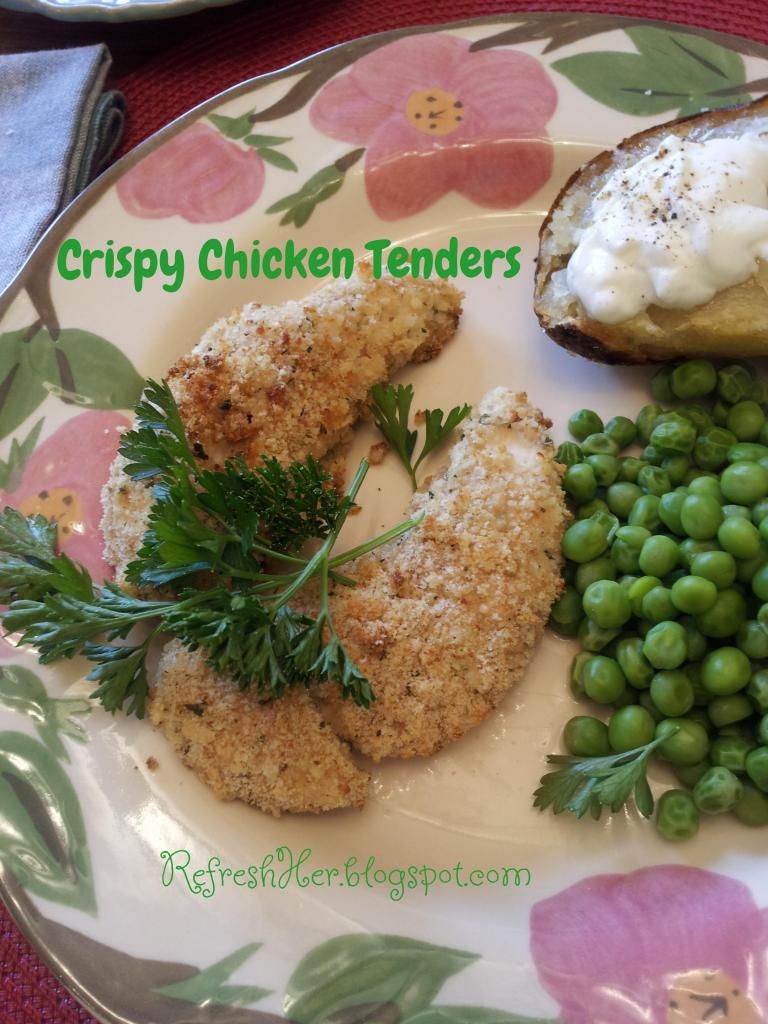 The flash freezing method put six extra pieces of chicken in my freezer for another busy day! Here's how it works:
Soak chicken in buttermilk eight hours: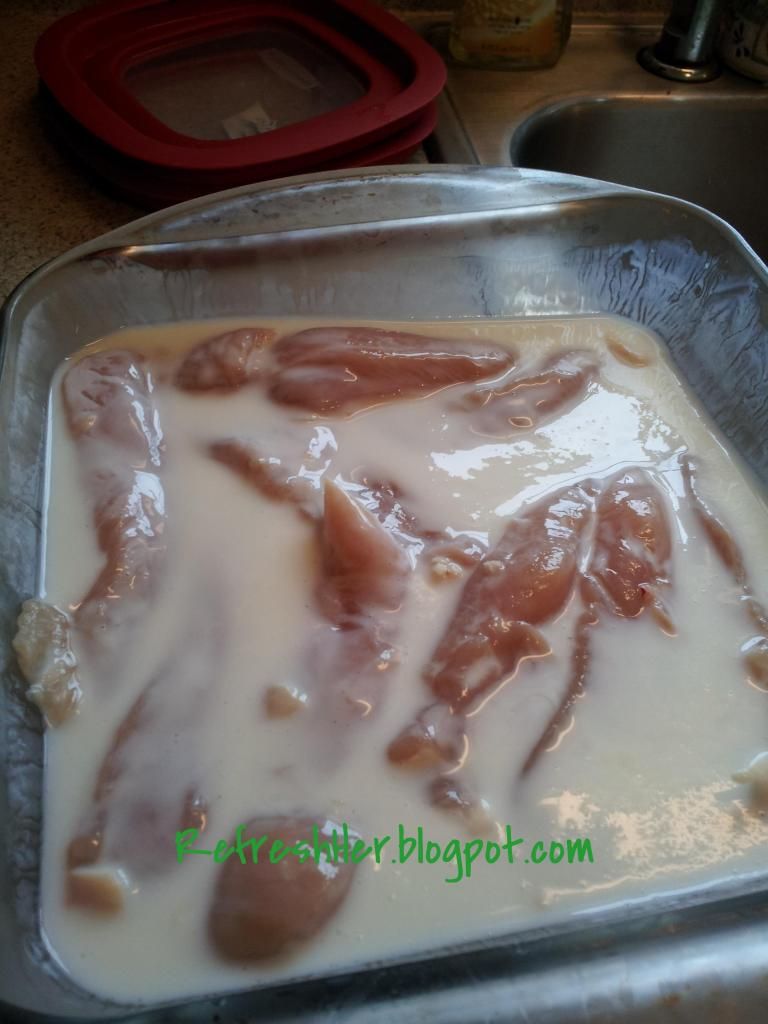 Coat in crumbs: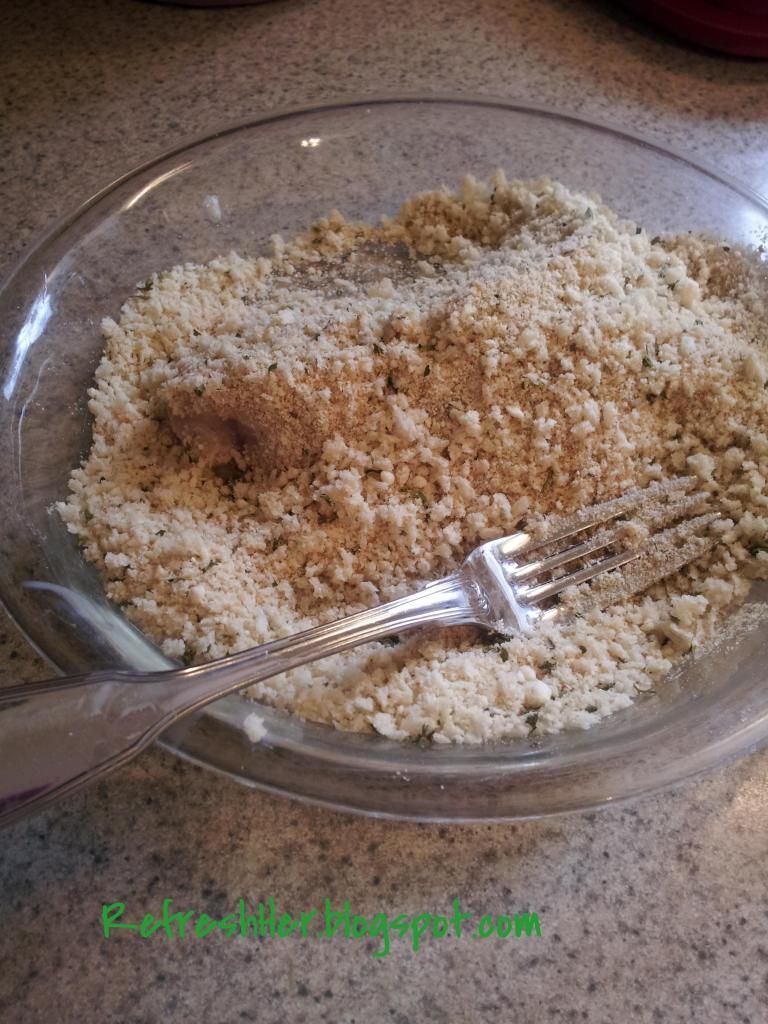 Place chicken on baking pan and freeze for several hours: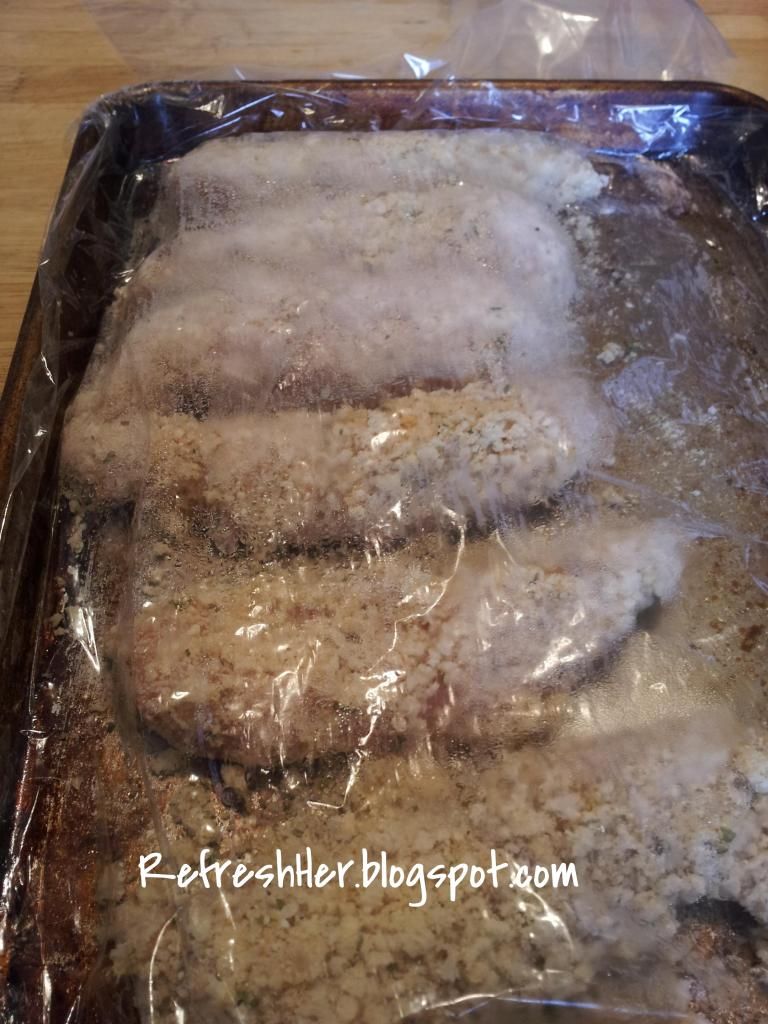 Place in freezer bag until ready to bake!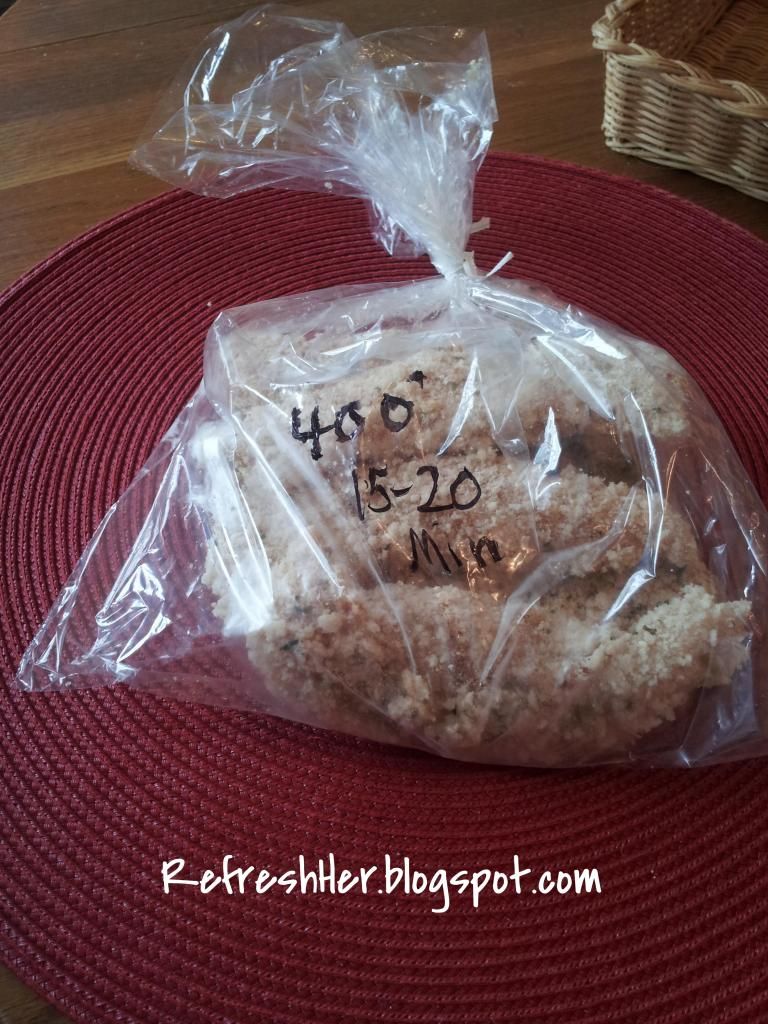 Ingredients
4 Chicken breasts cut into long strips or about 16 chicken tenders
2 cups buttermilk
1/2 cup whole wheat bread crumbs
1 1/2 cup panko crumbs
1 teaspoon garlic powder
1 teaspoon onion pepper
1 tsp kosher salt
1/2 teaspoon freshly ground pepper or 1/4 teaspoon regular
1/4 cup freshly grated Parmesan cheese
Instructions
Soak chicken tenders in buttermilk over nigh or 8 hours.
Spray a baking pan with cooking spray (one that will fit in your freezer for flash freezing)
Combine both crumbs with seasonings. Coat chicken well, pressing if necessary.
Lay on pan and flash freeze until solid or over night.
Remove with metal spatula and freeze in a gallon size freezer bag squeezing air out. Label bag with baking directions:
Preheat oven to 425.
Spray a stone or cookie sheet with spray. Place chicken strips on pan and spray top of strips.
Bake for 15-20 minutes or until juices run clear. Broil for 5 minutes if you desire extra crispy.
You'll love these!
Another answer to the question, "What's Cookin' in the Country?" is also...ENCOURAGEMENT!
After living with a husband for 32 years, and him also being a pastor, I know how much he needs my encouragement in both of those roles. It is my desire to encourage you in the days ahead to encourage:
Your pastor
Pastors need to be encouraged!!!!!!!!!!!! They fight the devil as they prepare their messages, preach their messages, and live out their messages. Their flesh can get weary and weak. Their human hearts want to quit. The world is no friend to them, but also their own church members can also be attacking, bringing on even more discouragement. Many well known preachers and missionaries from years past including Charles Spurgeon, David Brenard and Willaim Carey fought depression due to the very things I just enumerated for you.
Don't let your pastor, whoever he is, go without your prayers; that is your greatest tool to help lift his heart.
2. Your husband, if you're married. Our men seem untouched by the "stuff" of life that goes on around them, but they need our words of affirmation. The Strange Woman in Proverbs 7 used ALL kinds of words to entice her prey. How much more should a husband hear from his wife words of support and refreshment?! Tons more!
This next month, I want to share an idea from
Revive Our hearts
, as to how you can specifically pray for your pastor and your husband. Are you up for the challenge? Let's start today cheering on these dear men!
Pastor's encouragement - Pray that your pastor will love God with all his heart, soul, mind and strength. Pray that God's Spirit will work in his heart in power and that he will value and follow biblical priorities. (Deut. 6:5, Matt. 6:33)
Husband's encouragement - One of the best opportunities to express your gratitude is first thing in the morning. How do you greet your husband each morning? Is he confident in your love? Give him a wake-up call that he'll never forget—a big "I love you" and an "I'm so glad I'm your wife!"
Are you willing to take this challenge and be a refreshment to your pastor and your husband?
With love from my country home,